Sport at helmlsey community primary school
Our vision for school sport links to our wider vision for Helmsey CP School
Sport for All: Competing Together
Enjoy these sporting slideshows
Netball - Year 5 and Year 6
On Friday 18th March eleven netballers set off to Ryedale School for the High 5 Netball competition. Soon after arriving, they warmed up (with their Sports Leaders) and started their match against each other! Helmsley A v Helmsley B. The score was ... 3-1 to Helmsley A. Here are the results from the rest of the competition...
KMS C 0-5 Helmsley A

KMS D 0-8 Helmsley A

KMS B 1-6 Helmsley A

KMS A 1-2 Helmsley A
KMS C 3-1 Helmsley B

KMS B 2-2 Helmsley B

KMS D 0-1 Helmsley B

KMS A 7-4 Helmsley B
Helmsley A were overall winners of the competition and will be going to the School Sports High 5 Netball Finals on Wednesday 23rd March. Everyone from Helmsley enjoyed playing. Well done everyone. Thank you to everyone who supported and transported us. A special thank you to Caroline Baum for all her help coaching the netballers.
By Lily (Year 6)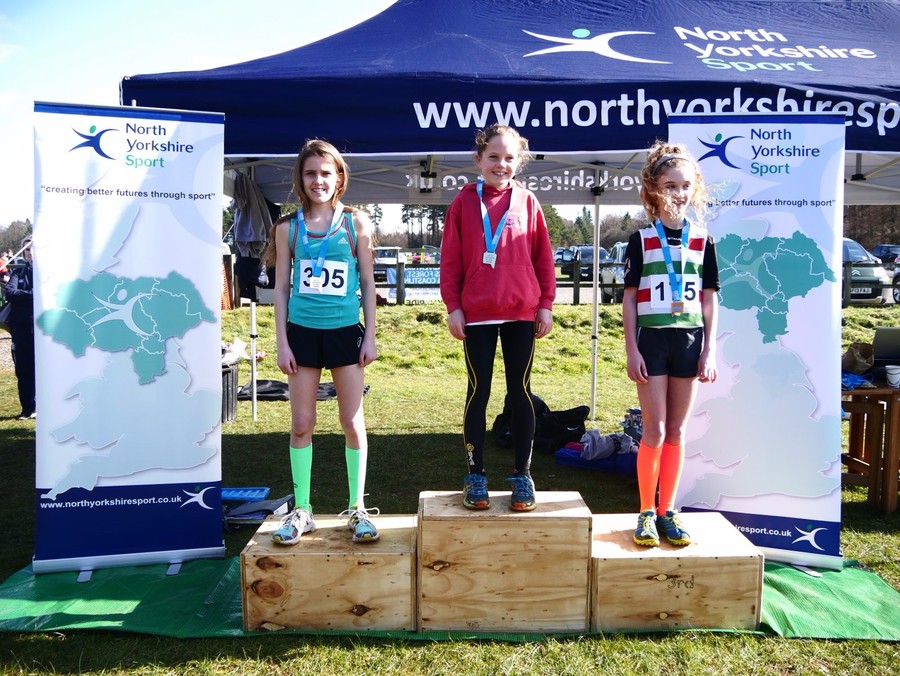 Cross Country - Key Stage 2
On Thursday 17th March three children from Helmsley C.P. School competed in the North Yorkshire School Games Cross Country Event at Adderstone Field in Dalby Forest.
The sun made a rare appearance for the North Yorkshire School Cross Country. A strenuous and muddy route tested many to the limits...
Imogen Ward came 27th in the Year 3 Girls' Race. "I couldn't breathe afterwards!" she exaggerates, demonstrating that she put her all into it. It was her first big cross-country and she did really well on the tough 1200m course.
Harvey Stockdale placed 46th in the Year 5 Boys' Race. He has qualified every time, so he is experienced with the competitive atmosphere, and did really well on the challenging course.
Issy Nicholls came 1st. She beat her arch-rival in a sprint to the line, claiming gold in the competitive Year 6 Girls' Race.
Everyone had a great day, coming home with their heads held high. Helmsley School once again triumphs in sport!
By Issy (Year 6)
Quicksticks Hockey - Year 3 and Year 4
On Friday 11th March Helmsley C.P. School took part in a Quicksticks hockey tournament at Ryedale School. 27 children took part from our school from Year 3 and Year 4. The other teams who took part were Gillamoor School and Kirkbymoorside school. Helmsley and Kirkby had four teams entered and Gillamoor had two. Helmsley School won the tournament and our winning team were unbeaten. A really big well done to everyone who took part. A special thank you to the parents and Miss Morse, who transported and supported us.
Report written by Evie, Christopher and Mawgan (Year 3)
Our Sporting Year 2014/2015
The School Sports Partnership with Ryedale. This has been extremely successful and every child from Years 1-6 has had the opportunity (not all have chosen to take it) to take part in a festival competition at Ryedale School. The link with Ryedale enabled all children from Reception to Year 6 to take part in a cluster rowing event. The row was completed at school and then results from all schools in the cluster were collated. Some highlights from this include: Darcy Sheriff 3rd-Year 6; Henry Marwood 1st Year 5; Immie Scott 3rd Year 5; Evie Pike 1st Year 4; Mawgan Talling 2nd Year 2; Tilly Rivis 1st Year 1.
The other part of the Ryedale sports link was the support to be offered by Miss Middleton to develop PE teaching in school. A major part of the PE funding is to ensure a lasting legacy. Using the money to buy in this support has enabled teachers across the school to reflect on their practise and experience and develop their expertise.
Our sports teams have again performed fantastically at a range of events, dominating the football by winning the Years 1/2, 3/4 and 5/6 competitions, with Years 5/6 coming 2nd the Ryedale and Whitby finals. We also won both rounders competitions with the Years 1/2 and 3/4 teams. The Year 3/4 cricket team also won their competition. Cross-country again revealed some super performances with about 10 children qualifying for the North Yorkshire finals in Catterick. There was also a wonderful individual performance by Issy Nicholls who recently won the Year 5 Yorkshire Schools Biathlon and will soon be taking part in the regional qualifying event.
The highlight of the year came in Netball when the Year 5/6 team won the cluster competition then finished second at the Ryedale and Whitby finals qualifying for the North Yorkshire Youth games finals. A great deal of effort was put in and the children managed to finish 9th in North Yorkshire, a supreme effort when you consider the size of some of the city schools. Huge thanks again go to Caroline Baum for all the effort she put in coaching and developing this team.
The swimming lessons have been much smoother in organisation this year and have also enabled us to offer more support to the children and achieve better progression for all. Unfortunately for the third year in a row we finished second in the swimming gala, by a couple of points (again), but the increasing confidence of all pupils should mean we can reclaim the trophy next year.
A new fixture this year came in October when a touring team, St Pious, visited the school for two football matches. This was a great experience for the children culturally as well as another sporting opportunity. We are hoping to set this up as a regular event and will be looking at getting a girls fixture to run alongside.
At the start of the academic year we made contact with Clive who came in to deliver some Judo taster sessions. Over the course of the year the Judo club has really developed and has a weekly attendance of 18 children, despite the early start. A reflection of the impact of this club came when the school won, 'The Red Belt Rumble' competition.
A huge thank you to everyone who has helped with transport, running activities/ clubs and supported sponsored events, without all of your support we wouldn't have been able to offer all of the children the range of opportunities over the past year.
Looking forward to 2015/2016 - the school will continue to work in partnership with Ryedale and utilise the expertise of Miss Middleton, it is important that every child has access to high quality sports teaching and the opportunity to take part in competition, the work this year has enabled us to ensure both of these. We will continue to offer swimming, making sure that all children by the end of Year 6 are able to swim at least 25m (such an important life skill).